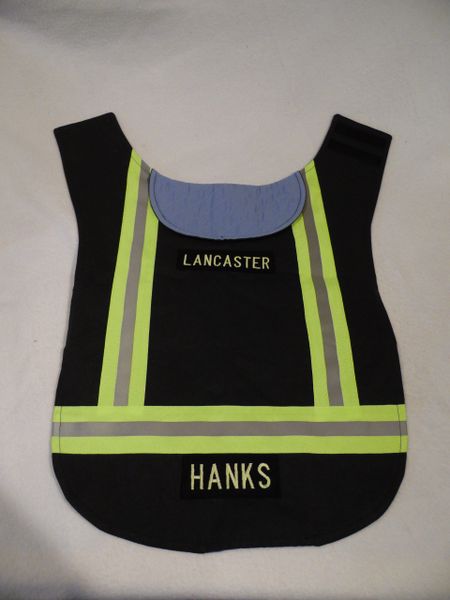 Firefighter Dog Coat
**Please allow up to 4 weeks for delivery**
They say a dog is man's best friend but we say he is a member of the family. So why not treat your furry little friend to his own firefighter themed coat?   We will custom make a coat for your critter based upon your measurements.   If you or your family member is sensitive to smells or textures we also offer our dog coats made from new fabric.   If you have any questions on measurements we ask that you give us a call before ordering - we always answer or return phone calls as promptly as possible.
All of our custom dog coats feature a 100% cotton quilted liner to keep your furry friend warm and to provide comfort.   Don't forget that we also offer custom embroidery, can stitch on custom service animal patches, and as always we offer AUTHENTIC 3M Fire Coat Letters, Numbers, and Trims.
Thank you for looking and support your true modern day ma and pa - firefighter owned and operated store.
Size Guide
Large - Approximate back length 22" to 25" long. 
Medium - Approximate back length 18" to 22" long. 
Small - Approximate back length 14" to 16" long. 
X-Small - Approximate back length 10" to 12" long. 
If you are unsure of your dog's size please contact us before ordering. 
** RECYCLED GEAR USE DISCLAIMER **  While all of our gear is rigorously cleaned, by purchasing a product made from recycled/used firefighter gear you understand that, despite our best efforts the fabrics may contain traces of substances, such as carcinogens, that could be harmful or fatal. It is for this reason we offer some products in new material. If you would rather have an item made from new canvas fabric, or authentic material, the production time will be slightly longer.

Reviews