Flame Fighter Gloves - Size Medium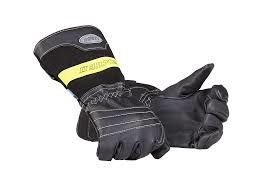 Flame Fighter Gloves - Size Medium
Lightweight and extremely dexterous, the Flame Fighter is the top choice of firefighters who perform extrication as well as structural firefighting. With complete waterproof protection, hands stay warmer in wet conditions and with the large adjustable gauntlet, water has a hard time finding its way inside during hose handling and overhaul work. Kevlar impregnated with silicon protects the hands from cuts and abrasion like no other, making it a very cross-functional glove that may be used in extrication as well as firefighting conditions. Best of all, after you've given the Flame Fighter a good days work, and its covered in soot and ash, or worse yet, possibly dangerous fluids, just throw it in the washer and you're ready to go with a clean, sanitary, high performance glove. Flame Fighter carries the CE and EN 659 KAT 111 certifications and meets or exceeds OSHA regulations 29 CFR part 1910-156 and NFPA 1971.

Material Construction:

These gloves are built using advanced material such as Antistatic Nomex, Aramid and Para-Aramid fabrics (Kevlar®) instead of natural leather fabrics as most competitive gloves in the fire industry. The benefit to you is that the Flame Fighter gloves will last 2-3 times longer than standard leather gloves and
provide greater dexterity. Water and perspiration salts do not impact the pliability of the gloves and they do not get hard and stiff after exposure to these elements as leather gloves do.

The gloves have a complete waterproof and blood borne pathogen proof (BBP) barrier that extends all the way to the end of the gauntlet. By keeping your hands dry it helps to eliminate slipping inside your gloves and keeps your hand dry and warm in those cold climate conditions. With the liquid barrier being BBP, potential blood transfer from victims protects the firefighter from potential life threatening transmissions. No more wet gloves to have to work a scene.

This glove is built with the complete palm made of Kevlar impregnated with silicon to create a highly durable and slip resistant surface. The fingers, fourchettes and palms up to the wrist are resistant to cuts and punctures to protect the firefighter from sharp metal and other materials that can injure their hands. The impregnated silicon makes the Kevlar surface non-slip in wet or dry conditions providing a confidence that you won't lose your grip due to wet conditions. The Kevlar knuckle protection also protects the backhand from cuts and punctures when providing extrication from accident scenes. These two features make this glove suitable as an extrication glove, as well as, a Structural Fire Rescue glove. You no longer have to carry multiple gloves to fight a structural fire and another pair to do accident extrication work. Two critical uses in one glove!

Specifications:
Backhand - 50% Antistatic Nomex 50% Bonding Cotton Knuckle Reinforcement - 50% Antistatic Nomex 50%Aramid (Kevlar) 40% Para-Aramid (Kevlar)Silicon Bonded Ulnar Nerve Gel Protection Enhancement Insulation - 100% Para-Aramid (Kevlar) 1.2mm thickness Glove Liner - 100% Interlocked Para-Aramid (Kevlar) Gauntlet Liner - 70% Meta-Aramid (Kevlar) 30% Bonding Cotton Velcro Gauntlet Strap 50% Antistatic Nomex 50% Bonding cotton Chrome Hardware w/clip Reflective Tape on gauntlet backhand Waterproof/Machine Washable
SIZE: Medium

MRSP : $94.99
Reviews