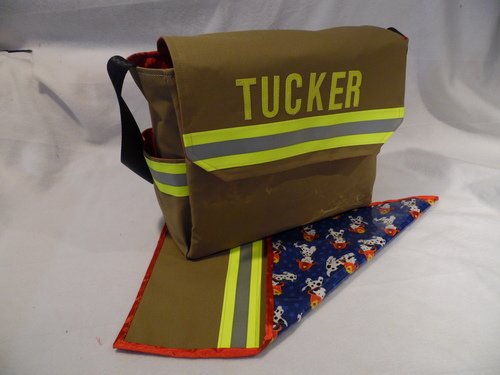 Firefighter Diaper Bag
**Please allow up to 4 weeks for delivery**



Ever searched for that perfect diaper bag? After three kids we decided to design our own and what better way to show off our firefighter spirit than with a diaper bag that looks just like our gear. This diaper bag was designed by moms for moms. Measuring at 14" x 12" x 5", it features two large bottle holders and has plenty of room to hold 20 diapers, a full sized package of wipes, a can of baby formula, a complete change of clothes, toys, and even has room to spare. We take great pride in keeping our products authentic!



Our Firefighter Diaper Bag is available in both new fabrics and recycled gear. Changing pad fabric does vary based upon availability. The fabric used for your bag mat not match the fabric in the picture.
** RECYCLED GEAR USE DISCLAIMER ** While all of our gear is rigorously cleaned, by purchasing a product made from recycled/used firefighter gear you understand that, despite our best efforts the fabrics may contain traces of substances, such as carcinogens, that could be harmful or fatal. It is for this reason we offer some products in new material. If you would rather have an item made from new canvas fabric, or authentic material, the production time will be slightly longer.
Reviews