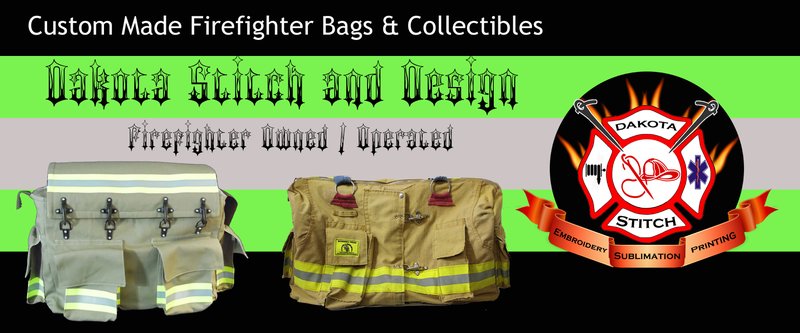 Meet the Gibsons!
Greg is a Certified Firefighter I / II, Fire Instructor I, Firefighter Certification Examiner II and spent many weekends a year providing extrication training and certification. Greg has had fire in his blood for over 17 years and has shared that fire with the love of his life, Nicole, and three children: Seth, Alannah, and Donavan. Dakota Stitch & Design, LLC is a true modern day mom and pop small business operated in the heart of Edgeley, North Dakota.
Dakota Stitch & Design, LLC, came about after Nicole was trying to find a diaper bag for her soon to be new son, Donavan, and she wasn't happy with any of the diaper bags she could find in stores and she felt the prices on the designer bags were insanely highly so Greg told Nicole, "Why don't you stop complaining about it and make your own then." Next thing you know Nicole is researching patterns and she produced her very first firefighter diaper bag. Nicole had material left over so she decided to make herself a purse and the rest is history. As Nicole went out in public people recognized her craftsmanship and attention to detail and everyone had to have a diaper bag and purse. Requests for Nicole to make additional items kept coming in and in November of 2013 a new business was born.
To this day Nicole continues to expand the business adding newer and better equipment that allows for a better quality product and faster production.

We are a true family operation!
Nicole Gibson -- Owner & Creative Designer
nicole@dakotastitch.com

Greg Gibson -- Co-Owner / Marketing / IT
greg@dakotastitch.com

Jessica Watkins - Creative Designer
jwatkins@dakotastitch.com

Ronda Herman - Accounting - A/R & A/P
accounting@dakotastitch.com

Seth Gibson - Shipping

Alannah Gibson - Embroidery Helper

Donavan Gibson - Little Helper